Film and Video
Videographer
Scott generally works with young people but he is also available for videography work in other areas. Shooting a music video? Doing an advert for your company? Need a conference filmed for your online platforms to get the message out? Scott can shoot these in 4k or HD.
Should your project be bigger than that Scott has the connections to produce any size of shoot.
Email: [email protected] or give him a call on 07810 510490
Film Educator and Writer
Pinewood Project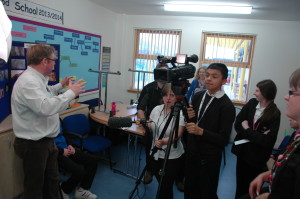 Last year Scott went to Pinewood School in Blackburn to work with the children there. That work resulted in two short films – one of which went on to be nominated for awards because the kids had done such a good job. Most importantly though was the fun the kids had – learning something new in an enjoyable way. These are just some of the kids with Scott, getting into the process of making a film.
Westfield Paper Mill
Scott was engaged to deliver the Westfield Paper Mill project – a multi-media record of the Westfield Paper Mill that included video interviews, pupil projects at the school, a booklet written by Scott and an exhibition that can currently be viewed in Armadale library. Funded by the Heritage Lottery Fund the project was a great success and culminated in an exhibition that coincided with Westfield Fun Day and the unveiling of a permanent information board detailing the history of the mill. All in all? Great Fun! This is a short video showing the project and Scott working with the youngsters in Westfield Primary.
Electric Man
If you think Scott looks familiar it might be because he has been in the Courier a few times before. Mostly it is to do with his voluntary work but sometimes it is because he wrote and helped produce a feature film a few years back. This particular work took him all over the country and even to California – where he got more sunburnt than anyone in the history of sunburn.